WELCOME to the web site of ARTI ENTERPRISES . We are a company located at UDAIPUR ,the CITY OF LAKES , in RAJASTHAN. We are the sole distributors of GAYATRI P.V.C. PIPES and KHODIYAR P.V.C. PIPES FITTINGS for RAJASTHAN . Recently we have also undertaken the distributorship for UGRI S.W.R. P.V.C. PIPES ,UGRI S.W.R. P.V.C. PIPES FITTINGS ,UGRI SUBMERSIBLE P.V.C. PIPES and UGRI JET PUMP PIPES for RAJASTHAN.
Our range of products provide solutions for the following areas : Drainage system for Bungalows , Residential and Commercial complexes .
Drainage system for Laboratories ,Chemical Industries Overflow and Waste Discharge systems in Chemical and Food Processing industries .
Discharges from Kitchens and Toilet sewage etc.
Casing pipes are used as supportive pipes in the Borings .
In Agricultural fields , for water supply system .
In suction pipe systems for Submersible and Jet Pumps.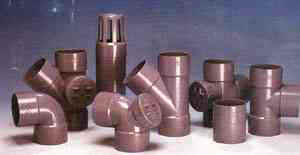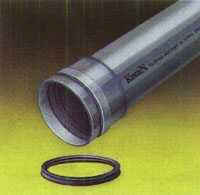 Excellent, Durable, Economy and High Tech PVC pipes and fittings for various joint applications of PVC pipes & fittings used in stormwater drainage, water lines for industries, residences, tubewell connections and all type of construction works.
PRODUCT FEATURES :

INSTALLATION : The pipe and fittings are very easy to install as compared to the cement pipes installation.
ADVANTAGES :P.V.C.pipes and fitting system have the minimum life time of 400 years ,their installation saves time, in laying the lines, ensures complete protections from leak using the adhesives or solvent cements.
ECONOMY :There is no maintainance needed to be done for P.V.C. drainage system as "ONCE THE INSTALLATION IS DONE , ITS DONE FOR EVER ".Moreover the light weight and durability of the P.V.C. pipes system results in their minimum transportation costs and no storage problems before their installation . From the futuristic point of view , if the installed lines get choked ,they can be easily treated with strong chemical solutions which is not possible in case of cement drainage system.
SMOOTH FLOW : Mirror finish inside allows smooth flow of liquids.
PROTECTION : The Rigid and the SWR pipe fittings are fitted directly with pipes to prevent leakage through joints, unaffected by majority of chemicals and aggressive soils. Above all its high impact strength ensures durability and free from corrosion.
OFFICE :
10, VASHU COMPLEX , MEWAR MOTORS LINK ROAD , NEAR SURAJ POLE , UDAIPUR . RAJASTHAN . (INDIA)
GODOWN OFFICE :
C - 6 , PRATAP NAGAR , UDAIPUR . RAJASTHAN . (INDIA)
Telephone : (91 - 294) 2491929
Email : vishal_vazirani@yahoo.com

Webmaster:

vishal_vazirani@yahoo.com

COPYRIGHT ã 1999 , Arti Enterprises , All Rights Reserved.